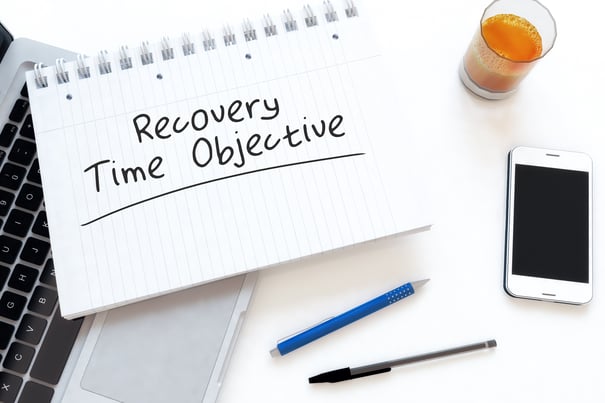 The world has gone digital. Organizations must think about securing their critical data and ensure they have a disaster recovery plan if the unthinkable happens. Disaster recovery plans are critical to ensuring the safety of client data, mitigating financial loss, and protecting valuable corporate data.
Two key components to consider when creating a disaster recovery plan are Recovery Point Objective (RPO) and Recovery Time Objective (RTO). Understanding these factors and considering them when creating your plan helps ensure you're creating a plan that meets the needs of your organization and maximizes the effectiveness of your disaster recovery plan.
Recovery Time Objective (RTO)
One can think about RTO as how long your organization can afford to take to fully recover and be operational again. For some organizations, zero downtime is the only option, others may be able to accommodate a few hours or a day of downtime without significant impacts. Your organization's individual recovery time objective will influence what type of disaster recovery site you choose and how you design your disaster recovery plan. If zero downtime is your organization's determined RTO you may opt to have a completely redundant infrastructure with replicated data offsite or choose to use a managed service provider for a disaster recovery solution.
Recovery Point Objective (RPO)
An RPO is basically how much information an organization can afford to lose. Many organizations complete nightly backups. If your systems go down prior to this nightly backup all information since the last backup is lost. An organization must know their RPO to ensure they choose the disaster recovery options that best meet their data needs. If your organization can't afford to lose even a second's worth of data, you may opt for constant data replication to your backup.
Conclusion
RPO and RTO are key when designing your IT infrastructure and keeping in mind when planning your disaster response. The tighter your RTO and RPO the more expensive your IT infrastructure will likely be. Enlisting the help of an experienced managed service provider like Cloud Carib ensures you're receiving expert advice, offloads some of the work of establishing your own IT infrastructure, cuts down on hardware costs, and ensures you'll receive monthly predictable costs for your IT infrastructure.
If you're thinking about switching to a cloud service provider, consider Cloud Carib. Located in Nassau, Bahamas, Cloud Carib is a cutting-edge, managed service provider that offers private, public, and hybrid cloud solutions. If you're looking for a tailored cloud solution from a reliable provider, call  1 800 390 2806 or 242 603 1270  to speak to a cloud specialist.