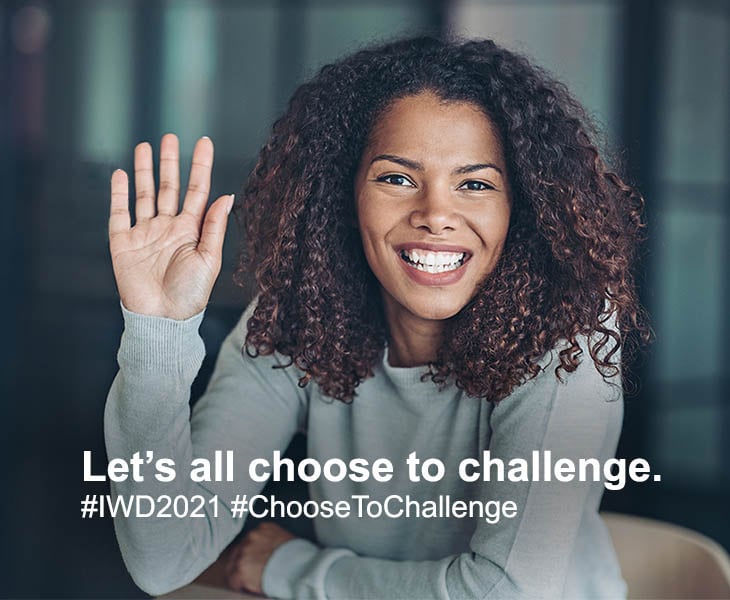 Choose to challenge https://www.internationalwomensday.com/theme
International Women's Day celebrates women's achievements across various industries while also bringing to light the call to action for accelerating gender parity.
This becomes true for many in technology, like Cordelia Dean, a Systems Engineer at Cloud Carib. She says, "Never let anyone tell you that IT is a man's job only. If you love what you do, make it your priority to succeed at all costs. There will be many challenges as a female on the job; find a goal and focus on it!"
According to Adeva IT (2018), women hold only a quarter (25%) of all jobs within the technology industry, even though they made up at least fifty percent (50%) of the workforce. This number is gradually changing for the better as we take more action for gender representation in the workforce.
Angela Li is another woman challenging those norms in her career as a Senior System Developer at Cloud Carib, "As women in IT, the road to success is not easy. However, I was fortunate to get lots of help and encouragement, especially from my mentors along the way - both men and women - in my career!"
Christian Albury, a Systems Engineer at Cloud Carib, echoes a similar sentiment "As a female, always aim to work harder and remain focused on your goals. You can do and be anything as long as you are willing to put in the extra work it will take."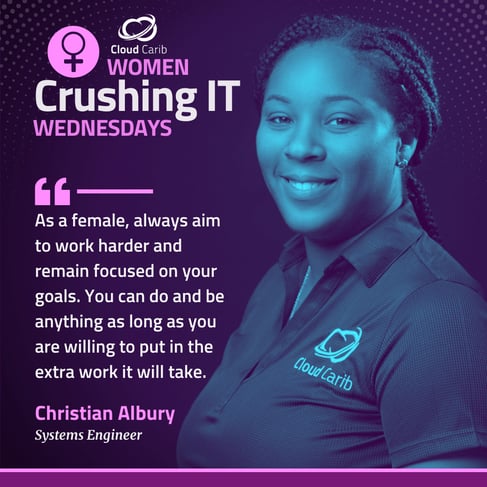 As a technology company, we are committed to ensuring that women in technical and non-technical roles are represented across the organization and have opportunities to advance in their careers.
Leah Treco, Sales Executive, shares her thoughts, "Always strive for excellence, even when no one is watching."
Brittany Cartwright, HR Manager, gives this advice to women everywhere "Unleash the potential in others, and you release the potential within yourself."
Finally, our Client Services Director, Karen Nassy-Wong suggests that you should know your "why." "In my career, I have always been one of the very few women in leadership and tech roles. I want to be a woman that girls can look up to and see themselves in; that's what influences my "why" and motivates me every day."
Our organization is choosing to challenge gender bias in various ways, such as providing training and development opportunities and facilitating open collaboration and networking for both men and women. We foster a work environment built on innovation and encourage people to share their ideas and grow their leadership skills. By working and supporting each other, we can make a positive impact on women on International Women's Day.
Check out our International Women's Day video on LinkedIn, Twitter, and Facebook.