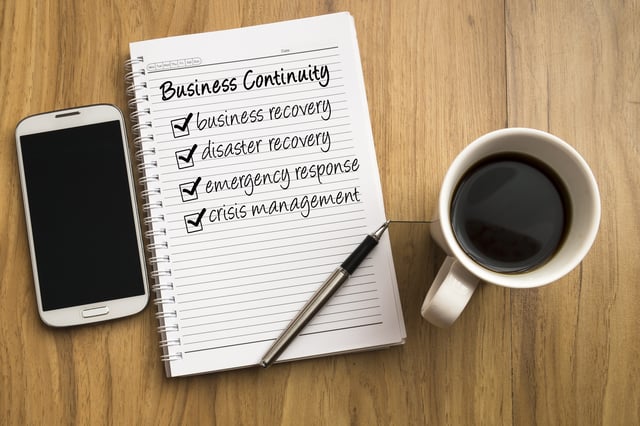 Hurricanes Irma and Harvey in 2017 were a stark reminder of how major disasters can incapacitate entire cities, regions, and countries. When disaster strikes, you'll want to ensure your data, your organisation, and your team is protected and prepared. Creating a disaster recovery plan (DRP) and a business continuity plan (BCP) are the first steps. Many mistakenly confuse business continuity and disaster recovery for one and the same. To ensure proper planning, it is important to understand that although these terms are complementary to one another, they are in fact two separate concepts.
Business Continuity vs. Disaster Recovery: What is the Difference?
A business continuity plan (BCP) considers various unpredictable events. From natural disasters and fires to cyberattacks and other external threats. More specifically, however, a BCP details the necessary steps the organisation needs to take in order to remain operable during and after an unpredictable event. It also takes into account the best way to prevent or minimize the negative consequences of a disaster from occurring at all.
Conversely, a disaster recovery plan outlines the processes and procedures an organisation should follow to recover critical applications, data, and systems after a disaster occurs.
How do the Two Fit Together?
Disaster recovery and business continuity are complementary in nature. A thorough DR plan ensures that your organisation can maintain business continuity after a disaster or unpredictable event, and is included in their overall BCP.
Disaster recovery is a subset of business continuity and is necessary to ensure systems and data are continuously recoverable. BCP is larger in scope and incorporates the entire organisation and all aspects a disaster may impact, such as a secondary site for staff in case of a primary site disaster, emergency staff scheduling, customer communications, alternate vendors, and more.
To effectively establish a DR plan, an organisation must know their Recovery Point Objective (RPO) and Recovery Time Objective (RTO). An RPO dictates the amount of data the organisation can afford to lose. On the other hand, RTO measures how long your organisation can operate without a specific application. These two parameters will determine the type of technologies your organisation must incorporate into their DR plan, as well as the procedures and strategies they must consider.
One organization may choose to hire a managed service provider to handle their DR, while others might prefer to manage their own. DR planning and replication may be one small part of Business Continuity Planning, but it impacts an organisation's ability to retain business continuity in case of a disaster situation.
When disaster strikes, organisations need to be prepared and able to recover data and operations in a timely and efficient manner. With an established strategy and plan in place, organisations can maintain operations and continue business as usual with little to zero impact. However, it is also important to understand the difference between the two concepts and establish a plan that incorporates both to ensure your organisation can confidently recover.