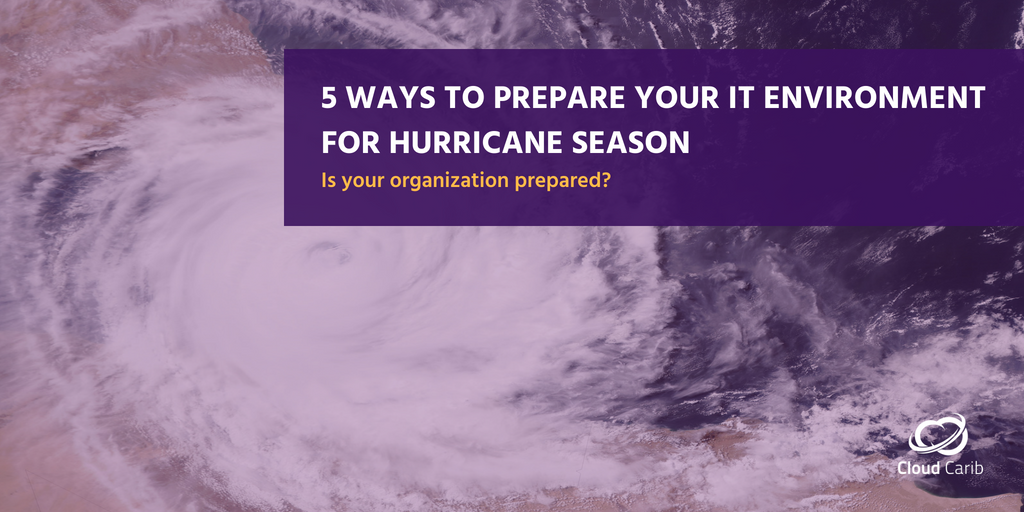 As we enter the hurricane season each year, it's never too late to start preparing and ensuring your organization has the necessary infrastructure in place to continue operations in a disaster situation. Categories from year to year have shown a huge increase in activity and intensity. 2017 & 2018's catastrophic storms left many in The Caribbean without power, food, and shelter for days, weeks, and even months on end.
The only way to prevent and protect your business from the unpredictable aftermath of a hurricane is by being prepared, and that all starts with having a sophisticated disaster recovery plan in place to ensure your organization can continue operating. Below, we take a deeper dive into some Disaster Recovery strategies and reveal the best ways to prepare your IT environment and infrastructure for Hurricane season.
1. Understand How Much Your Organization Can Afford to Lose
The first step towards building a successful Disaster Recovery plan is to understand how much your organization can afford to lose. This includes determining how much downtime is acceptable and what the effect could be on your organization's bottom line. To help calculate how much an outage could cost your business, we've released a handy downtime calculator.
By understanding the potential impact of a disaster to your organization, IT teams can accurately develop disaster recovery plans with appropriate SLAs and infrastructure in place to protect critical workloads and applications.
2. Calculate Your RPO and RTO Targets
Two important parameters that help to define an effective disaster recovery plan are the Recovery Point Objective (RPO) and Recovery Time Objective (RTO). The RPO measurement defines the last point in time systems and applications can be recovered to, and measures the amount of data that will be lost during potential downtime. The RTO measurement is the amount of time it takes to recover data and applications after an outage, and how long it will take to resume back to normal business operations.
It is imperative the RPO and RTO targets are in line with your SLAs to minimize the loss of data, revenue, and productivity. The cost of downtime associated to lost data and recovering lost data can be significant for an organization. Therefore, having appropriate SLAs in place that make sense to your business are crucial for a robust disaster recovery plan.
3. Failover to a Secondary Data Centre Location
Whether you house your IT equipment on or off premise, it is important to have a reliable secondary environment ready to failover to. For Caribbean-based organizations, this could mean having a secondary data centre on another island, or in Latin America away from the Hurricane zone. When disaster strikes, you can have peace of mind knowing your infrastructure will failover to a secondary site and can continue operating business as usual.
Failing over to a secondary environment also better prepares your organization by dramatically reducing your disaster response time. With proper training and testing, employees can quickly pick up where they left off and continue generating revenue without any bottlenecks in communication. They can also do so safely and securely, while your organization's critical data and applications failover to a secondary site away from the disaster situation.
4. Partner with a Managed Service Provider
Outsourcing the management of your IT infrastructure or disaster recovery solution to a managed service provider (MSP) will help your organization maintain normal business operations during a Hurricane or disaster situation. An MSP can help monitor your systems and applications, and provide 24/7 support when and if your environment experiences downtime. If your MSP is regional or has several data centre locations, they can ensure your disaster recovery plan is efficient by failing over to a secondary site away from the disaster location.
MSPs are also very experienced – their job is to maintain your infrastructure and ensure its uptime and availability, while enabling your internal IT department to focus on more strategic initiatives.
5. Test Your Disaster Recovery Plan Often
Having a disaster recovery plan in place is only half the battle – your organization needs to be able to test the plan to ensure it performs as expected. This also means training employees and ensuring they understand protocol for when a disaster strikes. The industry standard is to test your DR plan annually, or whenever there is significant change to your environment to ensure you are ready for a declared disaster.
As we begin the hurricane season, the time is now to start planning an effective disaster recovery strategy, and testing any plans already in place. If you don't know where to start, having a Disaster Recovery Assessment done by an outside third party is a great first step in ensuring your organization can continue to operate and generate revenue during a disaster situation.